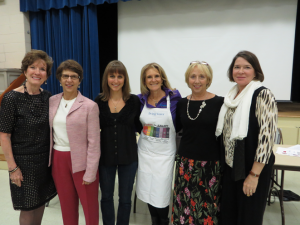 Heartfelt thanks go to DeJuana Jones for planning the successful branch program on October 17.  We learned how meditation, quality foods and alkaline water all help us lead our busy lives in the best health possible.
Thanks also go to Cathy Krebs who brought delicious healthy snacks.
Pictured left to right are DeJuana Jones; speakers Sarina Griswold, Leah Tasman, Elaine Gibson; and Program Chairs Joanne Clark and Joanna Crane.