Scam Targets Seniors!
More and more often we are reading that headline.  Have you noticed:  Many of us are seniors; and did you realize we are all very vulnerable to scams?
Nobody wants to be made a sucker or to be separated from his or her hard-earned money without getting some value in return.  Yet it happens every day.  Unscrupulous scammers use the mail, the telephone, the internet to take advantage of the unwary.  At our branch's excellent meeting on Senior Scams on January 17, I Cathy Krebs, branch president)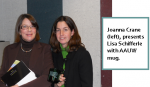 woke up to learn that I too had been scammed — I had bought those fraudulent light bulbs!  So this was a very useful and educational program.
Branch member, Joanna Crane introduced former coworker, attorney Lisa Schifferle of the Federal Trade Commission's Bureau of Consumer Protection.  Lisa, granddaughter of an AAUW member, outlined the types of scams they encounter. She also provided some information about the law enforcement cases handled by the FTC.
If you missed the meeting, please mark your calendars:  the FTC is offering a free public Forum on Senior Identity Theft at FTC headquarters, 301 New Jersey Avenue, N. W., Washington, D. C. on May 7, 2013.  Lisa Schifferle brought many really useful pamphlets, especially "Who Cares – Sources of Information About Health Care Products and Services," "10 Things You can do to Avoid Fraud," "Putting Telephone Scams on Hold – Recognize & Report Phone Fraud," and "Identity Theft – What to Know – What to Do."  These pamphlets and more are available from the FTC. More information at: www.ftc.gov