AAUW advances gender equity for women and girls through research, education, and advocacy.  Founded in 1881, we are 170,000 strong!
The Mt. Vernon Branch was founded in 1956.  We meet monthly, usually the third Thursday, from September through June.  Our programs and activities reinforce the vision of AAUW.  We would love for you to visit with us any time! 
****************
Mt. Vernon AAUW and Sherwood Regional Library
Present the Documentary


Gina's Journey: The Search for William Grimes


Saturday, January 18, 2020, 1:00 PM
Sherwood Regional Library, 2501 Sherwood Hall Ln Alexandria, VA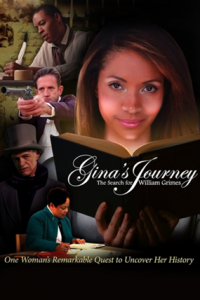 AN EVENT YOU WILL NOT WANT TO MISS! 
"Gina's Journey: The Search for William Grimes" follows the quest of one woman, Regina Mason, in tracing the steps of her ancestor, who traveled along the Underground Railroad to freedom and authored the first fugitive slave narrative in U.S. history.
You will be as captivated by the journey taken by Gina Mason, as by the one taken by her ancestor, William Grimes.  We are very fortunate to welcome Gina Mason to this event.  She will be able to answer questions and tell us even more than the documentary.
This is a very special event!  Please join us!
           Light refreshments will be available.
****************
We have a variety of active groups in which our members participate.  Our group activities build cohesion and enable us to work together extremely well to achieve the AAUW Vision.
Take a look at our newsletters

and see what all our branch is doing. 

Take a look at our programs

.  The 2019-2020 program schedule has been posted.

Scroll below and read about some of our past programs.
Under the About Us tab, you will find the

schedules for our book group, fundraiser and other activities.
By joining AAUW, you can belong to an organization that works to break through educational and economic barriers so that all women have an equal opportunity.
JOIN THE MT. VERNON BRANCH OF AAUW!
In principle and in practice, AAUW values and seeks an inclusive membership, workforce, leadership team, and board of directors. There shall be no barriers to full participation in this organization on the basis of age, disability, ethnicity, gender, gender identity, geographical location, national origin, race, religious beliefs, sexual orientation, or socioeconomic status.