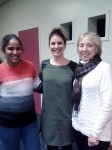 The January 16 program on FAIR Girls was a huge success!  We had a large and very generous crowd who were wowed by our energetic speaker, Teresa Tomassini, Director of Programs for FAIR Girls, INC and Amoy Stephen, a client (and Joanne Clark's mentee with Empowered Women International).
This message is from Teresa Tomassini, "Your audience was quite generous last night and all donations will be going directly to our case management fund which allows us to continue providing direct services for survivors. Thank you. It means so much to me personally, to our entire team, and most importantly to the young people we work with."
We hope to partner with FAIR Girls again some time soon.
FAIR Girls prevents the exploitation of girls worldwide with empowerment and education. Through prevention education, compassionate care, and survivor inclusive advocacy, FAIR Girls creates opportunities for girls to become confident, happy, healthy young women.
Photo, left to right: Amoy Stephen, Teresa Tomassini, Joanne Clark