AAUW advances gender equity for women and girls through research, education, and advocacy.  Founded in 1881, we are 170,000 strong!
The Mt. Vernon Branch was founded in 1956.  We meet monthly, usually the third Thursday, from September through June.  Our programs and activities reinforce the vision of AAUW.  We would love for you to visit with us any time!

 
***********

Mt. Vernon Branch is a 4-Star Branch!  We earned our stars in Programs, Advancement, Communications & External Relations, and Public Policy & Research. 

*****************
Take action on issues impacting women and girls by joining AAUW's Action Network. As a Two-Minute Activist, you will receive urgent email notices when your advocacy is needed most. We'll provide all the tools you need to call or send messages to your members of Congress, write letters to the editor for your local newspapers, contact your state legislators about pressing issues, and more.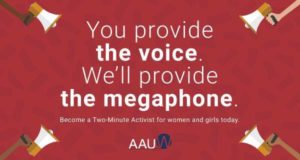 https://ww3.aauw.org/what-we-do/public-policy/two-minute-activist/
*****************
In 2018, AAUW adopted its strategic plan, providing the foundation and vision to advance gender equity for women and girls. Since then, we've achieved many milestones toward our goals. As we approach 2021, we've honed in on key areas where AAUW can continue to lead with an improved set of strategic objectives — call it the 2.0 version — that align with the enormous social, political and organizational changes we've seen since in the past two years.
*****************
AAUW Stands Against Racism
AAUW joins the country in mourning the losses of George Floyd, Ahmaud Arbery, Breonna Taylor and countless other people of color who have been unjustly killed across our nation. Our country needs healing. But healing will only come with justice. As an organization we condemn racism. Read more here.
*****************
We have a variety of active groups in which our members participate.  Our group activities build cohesion and enable us to work together extremely well to achieve the AAUW Vision.
Take a look at our newsletters

and see what all our branch is doing. 

Take a look at o

ur programs

.  The 2020-2021 program schedule has been posted.

Scroll below and read about some of our past programs.
Under the About Us tab, you will find the

schedules for our book group, fundraiser and other activities.
By joining AAUW, you can belong to an organization that works to break through educational and economic barriers so that all women have an equal opportunity.
JOIN THE MT. VERNON BRANCH OF AAUW!
In principle and in practice, AAUW values and seeks an inclusive membership, workforce, leadership team, and board of directors. There shall be no barriers to full participation in this organization on the basis of age, disability, ethnicity, gender, gender identity, geographical location, national origin, race, religious beliefs, sexual orientation, or socioeconomic status.
LEARN TO SUCCESSFULLY ADVOCATE FOR YOURSELF AND…AND CLOSE THE PAY GAP FOR WOMEN EVERYWHERE!  Take Work Smart Online-Free!