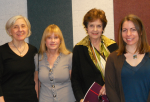 A great group came out to hear Holly Kearl speak about AAUW's research report Crossing the Line and her book Stop Street Harassment.  Holly's talk was informative and inspiring.  Holly works as a program manager for AAUW in the Legal Advocacy Fund department. She co-authored AAUW's report Crossing the Line: Sexual Harassment at School. Outside of her job, she founded the website www.StopStreetHarassment.org and wrote her book on street harassment in 2010.
She was awesome!  As a result, Elaine Kolish will donate a copy of Stop Street Harassment to Sherwood Hall Regional Library with a branch nameplate inside.  Several members will take Crossing the Line to schools with which they have an association.  As many as 20 copies of Crossing the Line may be ordered free at https://www.aauw.org/research/crossing-the-line/.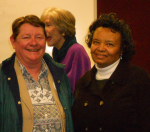 Sandy Lawrence, left, and Angela Booker were also at the February 23rd meeting.  They are both members of the Woodbridge Branch.  Sandy is the state Northern District Rep and she talked about the upcoming state conference in Newport News:  Making Waves, April 20-22.  Angela is nominated for state Co-Vice President for PublicPolicy .